Opponent not working hard enough?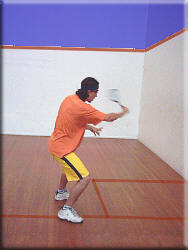 Attempt to take the ball early - on the volley if possible.
Published: 24 Jul 2004 - 18:06 by rippa rit
Updated: 08 Dec 2006 - 07:47
Subscribers: Log in to subscribe to this post.
Often we get so carried away by the actual running and hitting we forget to think what affect the game is having on the opponent.
Try to consciously monitor the following:-
Are the returns going consistently to all 4 corners of the court? (The opponent must run a full circle, not just a triangle 'cos that is only half the court!)
The number of unforced errors? (The opponent must fight for every point and an unforced error is a gift)
Is the tempo of play being accelerated by volleying? (It may be necessary to slow down the play a fraction to gain better control of the ball).
How much time is the opponent spending at the T during rallies? (Think, how can I move the opponent from the T)
Note:
Remember, the player who spends the most of the rally at the T does the least running.
Please communicate with me if you do not understand how to improve your play from this tip.
Revise
the 10 fundamentals
How to add images to Members' Forum posts and replies here...
Replies...
Please Note: The most recent replies are now at the top!
Sorry, only members can post replies on this and all other Members` Forum items.
Join Here - It`s fast and it`s free!
Support Squashgame
Support us here at Squashgame.info! If you think we helped you, please consider our Squash Shop when purchasing or make a small contribution.
Products Now Available