Talking about backs?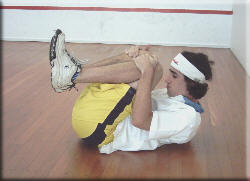 Lower Back Stretch
Published: 14 Dec 2004 - 18:30 by rippa rit
Updated: 11 Dec 2008 - 14:03
Subscribers: Log in to subscribe to this post.
Ever get a stiff back after playing squash? Stretching before and after playing will help keep the muscles flexible and therefore less strain on the spine. We do take our bodies for granted.

But, DON'T take your back for granted, coming from one who knows well. Be sure to:
Bend from the knees and keep the back in a straight line will put less pressure on the vertebrae and joints.
For those who want to train the quick twitch muscles, to gain more speed, short/sharp court sprints are recommenced. However, when court sprinting, carry your racket to touch down as you turn at each end of the court. It is not recommended bending lower than the knees (touching the floor).
Stretching can appear to have a negative result when in fact it is the technique that is incorrect.
If the problem persists consult a Sports Physiotherapist.
How to add images to Members' Forum posts and replies here...
Replies...
Please Note: The most recent replies are now at the top!
Sorry, only members can post replies on this and all other Members` Forum items.
Join Here - It`s fast and it`s free!
Support Squashgame
Support us here at Squashgame.info! If you think we helped you, please consider our Squash Shop when purchasing or make a small contribution.
Products Now Available