Vary your shots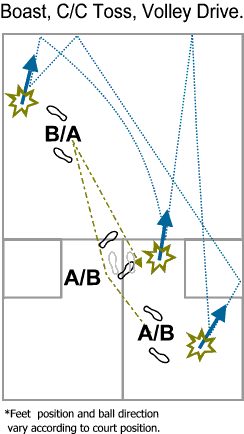 This routine will help develop shot variation
Published: 21 Nov 2004 - 00:38 by rippa rit
Updated: 25 Dec 2009 - 10:52
Subscribers: Log in to subscribe to this post.
It is so easy to just hit and run and recover the balls hit by the opponent. By playing a variety of shots it keeps the opponent guessing. Confuse the opponent, surprise the opponent, be unpredictable. Just do it, why?
Why?
It decreases the time available to react to a situation, since the opponent is not sure what shot to expect.
It gives the opponent less time to get in position to strike the ball (get the feet and racket in position), as the opponent will react slower.
It catches opponents, who do not watch the ball,standing flat-footed.
It affects the rhythm which in turn can alter the timing, which then can bring about errors.
Find a partner of similar standard, try practising this routine to improve your repetoire of shots. Here are
more drills/routines
to chose from.
How to add images to Members' Forum posts and replies here...
Replies...
Please Note: The most recent replies are now at the top!
From Guru - 25 Dec 2009 - 10:52
From rippa rit - 28 Jan 2007 - 17:51 - Updated: 29 Jan 2007 - 20:37
From missing_poster36 - 28 Jan 2007 - 09:34 - Updated: 28 Jan 2007 - 09:37
Sorry, only members can post replies on this and all other Members` Forum items.
Join Here - It`s fast and it`s free!
Support Squashgame
Support us here at Squashgame.info! If you think we helped you, please consider our Squash Shop when purchasing or make a small contribution.
Products Now Available