Changing the pace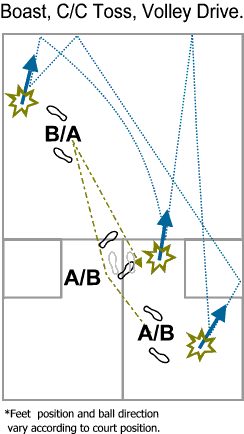 Change the pace and direction of the ball
Published: 21 Nov 2004 - 16:33 by rippa rit
Updated: 30 Jan 2007 - 19:51
Subscribers: Log in to subscribe to this post.
Changing the pace, sounds a simple statement. In a match it is easier said than done.
This tactical skill is not practised as much as it should be. It is especially difficult when it is a running and hitting game, and seldom are the players actually stopping at the T.
Why is it important?
Changing the pace and direction of the ball makes the opponent stop, start, turn and twist, and reach.

This type of play throughout a match will cause:
.......fatigue
.......lack of coordination in the less agile
.......shots to be played without balance
.......judgment to be affected while tracking the ball
All of the above will gradually cause your opponent to make mistakes.
How to add images to Members' Forum posts and replies here...
Replies...
Please Note: The most recent replies are now at the top!
From rippa rit - 03 Jun 2006 - 15:58 - Updated: 03 Jun 2006 - 16:06
From ppoppin - 19 Mar 2005 - 17:17
Sorry, only members can post replies on this and all other Members` Forum items.
Join Here - It`s fast and it`s free!
Support Squashgame
Support us here at Squashgame.info! If you think we helped you, please consider our Squash Shop when purchasing or make a small contribution.
Products Now Available