Hate the Grip/Love the Grip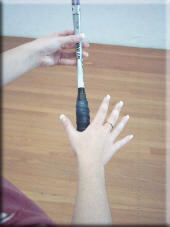 The V formed by the thumb & forefinger points to the left shoulder
Published: 14 Jan 2005 - 08:17 by rippa rit
Updated: 29 Oct 2007 - 07:40
Subscribers: Log in to subscribe to this post.
The sooner you can master the grip, the sooner your game will get on track. If you have trouble keeping the grip it will surely be something to do with
the swing.
Squash players use the angle of the racket face to control the speed of the ball and swinging with a grip that keeps the racket face flat does not allow for the "control" element.
To capture the finer points, get over the grip, and get on with the thrilling parts of the game.


The thrill of skill comes when drop shots are experienced, and boasts sit down in the front of the court. Especially when the opponent cannot retrieve the ball.


To get used to the correct grip, solo practice until the swing is mastered.



Trust me, when you get the feel of your grip/swing your game will improve out of sight.


How to add images to Members' Forum posts and replies here...
Replies...
Please Note: The most recent replies are now at the top!
From rippa rit - 29 Oct 2007 - 07:36 - Updated: 29 Oct 2007 - 07:40
From rippa rit - 13 Oct 2007 - 13:42 - Updated: 13 Oct 2007 - 13:44
From SuperSage666 - 04 Mar 2007 - 21:03 - Updated: 04 Mar 2007 - 21:42
From rippa rit - 27 Feb 2007 - 21:49 - Updated: 27 Feb 2007 - 21:52
From tbacon - 25 Oct 2006 - 12:35 - Updated: 25 Oct 2006 - 12:35
Sorry, only members can post replies on this and all other Members` Forum items.
Join Here - It`s fast and it`s free!
Support Squashgame
Support us here at Squashgame.info! If you think we helped you, please consider our Squash Shop when purchasing or make a small contribution.
Products Now Available