Skilful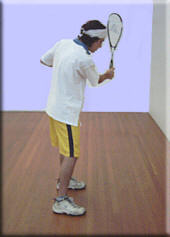 Consistent preparation
Published: 22 Aug 2004 - 18:30 by rippa rit
Updated: 04 Jan 2008 - 07:17
Subscribers: Log in to subscribe to this post.
Sometimes down at the club the players discuss team members and do grading for competitions and the phrases go around describing players, eg fit player, cunning player, shot maker, brick wall, and so on. That be it, how do we define a skilful player.
What is skill?
A stroke hit consistently with a high degree of accuracy.
Question
: Where did the word "fluke" come from?
Answer
: From strokes hit on the frame/wood, maybe!
How to add images to Members' Forum posts and replies here...
Replies...
Please Note: The most recent replies are now at the top!
Sorry, only members can post replies on this and all other Members` Forum items.
Join Here - It`s fast and it`s free!
Support Squashgame
Support us here at Squashgame.info! If you think we helped you, please consider our Squash Shop when purchasing or make a small contribution.
Products Now Available