Legs heavy?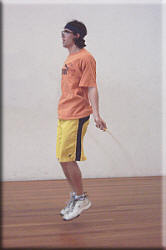 Skipping will increase speed
Published: 24 Jul 2004 - 18:58 by rippa rit
Updated: 14 Aug 2007 - 15:24
Subscribers: Log in to subscribe to this post.
What a feeling, when nothing wants to move. At the beginning of a match it may be nerves, and that can bring a feeling of being uncoordinated and lacking in energy. It could have been the pre-game meal was unsuitable to carry around the court. These and other factors influence your performance.
Ways to help understand these feelings are:-
To get motivated - increase the heart rate by running, skipping, etc. before going on the court.
To get the muscles ready for the match - spend extra time on the warmup and stretching exercises, particularly if the previous match was tiring.
The choice of food, and the time the food was eaten, before play, can cause a lethargic feeling.
Towards the end of a match the muscles may be just plain tied, which shows you have put in a 100% effort.
Read about
Game Preparation
for more ideas
How to add images to Members' Forum posts and replies here...
Replies...
Please Note: The most recent replies are now at the top!
Sorry, only members can post replies on this and all other Members` Forum items.
Join Here - It`s fast and it`s free!
Support Squashgame
Support us here at Squashgame.info! If you think we helped you, please consider our Squash Shop when purchasing or make a small contribution.
Products Now Available