On your toes!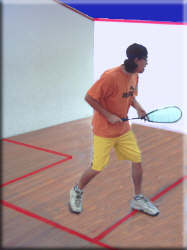 On your toes - knees flexed, as the opponent is ready to strike the ball
Published: 23 Nov 2004 - 18:10 by rippa rit
Updated: 15 Aug 2006 - 22:26
Subscribers: Log in to subscribe to this post.
Of course it is impossible to get around the court on your toes all the time, and it would be tiring for your feet. When there is a change of pace, and particularly when you have plenty of time waiting for the opponent to recover the ball, it is easy to just relax enough so the heels have actually settled on the floor. What is the best way to be ready to chase the ball?
It is difficult to be up on the toes all the time. However, just as the opponent is about to strike the ball, bounce on the toes. This will definitely help the take-off.
How to add images to Members' Forum posts and replies here...
Replies...
Please Note: The most recent replies are now at the top!
Sorry, only members can post replies on this and all other Members` Forum items.
Join Here - It`s fast and it`s free!
Support Squashgame
Support us here at Squashgame.info! If you think we helped you, please consider our Squash Shop when purchasing or make a small contribution.
Products Now Available