Why get to the ball early?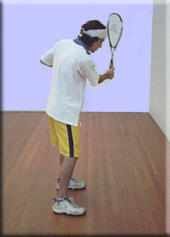 Early preparation gives the best shot options
Published: 10 Oct 2004 - 23:06 by rippa rit
Updated: 15 Aug 2006 - 15:27
Subscribers: Log in to subscribe to this post.
It gives a feeling of control to be ready to strike the ball with plenty of time, instead of scrambling around. Besides, it makes opportunities for a greater variety of shots.
Other examples are:
More return options, and less repetitive play.

You have the choice of delaying the hit (deception).

To return the ball quickly gives the opponent less time to get in position, and makes it difficult to attack.

It is easier to attack when striking the ball at the top of the bounce.

Shots are more accurate if struck while the body is balanced and steady.


TIP:

Don't over-run the ball - get to within striking distance, and wait - then HIT - this will also allow for better deception; also a good tip when trying to hit accurately.
How to add images to Members' Forum posts and replies here...
Replies...
Please Note: The most recent replies are now at the top!
Sorry, only members can post replies on this and all other Members` Forum items.
Join Here - It`s fast and it`s free!
Support Squashgame
Support us here at Squashgame.info! If you think we helped you, please consider our Squash Shop when purchasing or make a small contribution.
Products Now Available