Wide Forehand Swing?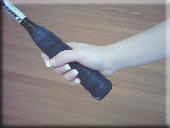 Correct Squash Grip
Published: 07 Dec 2004 - 15:24 by rippa rit
Updated: 27 Mar 2008 - 19:32
Subscribers: Log in to subscribe to this post.
Habits can be hard to break. Often tennis players change to squash and that usually requires a big adjustment to the forehand, as well as a change of grip.

Without bending the elbow the swing is probably excessive.
Remember excessive swing is dangerous play.
Mind you, it will be hard to adjust while participating in both sports at the same time.
Here are some ideas on how to adjust the swing:-

Change the grip (that is vital).
Practice the arm action (swing) which is a rotation/pronation of the forearm by:-

Skimming a stone along the water.
Side-arm throw as in softball or cricket.

Solo practice by standing still, throw the squash ball gently onto the side wall, let it bounce, then drive it with the correct grip and side-arm swinging action.

There are a lot of benefits in getting this right, for example:-

drop shots and boasts will be easier to retrieve as the racket face opens.
shots that land in the corners can be returned with confidence as attacking drives or boasts.
lobs will lift over the opponent's head.
To have a wide swing would make the variety of shots, as shown in this Gold Video, impossible.
How to add images to Members' Forum posts and replies here...
Replies...
Please Note: The most recent replies are now at the top!
From nickhitter - 16 Oct 2006 - 09:43
Sorry, only members can post replies on this and all other Members` Forum items.
Join Here - It`s fast and it`s free!
Support Squashgame
Support us here at Squashgame.info! If you think we helped you, please consider our Squash Shop when purchasing or make a small contribution.
Products Now Available