Why play a lob?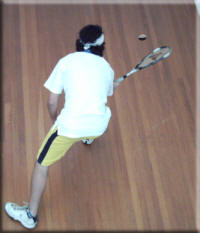 Get down low and get the racket under the ball for an effective lob/toss.
More Pics...
Published: 24 Jul 2004 - 18:16 by rippa rit
Updated: 22 May 2009 - 07:58
Subscribers: Log in to subscribe to this post.
I recommend experimenting with the lob, especially when you are out of position and need time, and your opponent is ready to pounce on your return. It will take some practice as the harder the opponent hits the ball, the more skill required to be able to take the pace off the ball and hit a nicely controlled tight lob that just sits in the back corner of the court. Definitely, this shot is under-estimated.

Say, the reply to a drop shot is a cross court lob. The lob will:-
Let you recover from the front of the court.
Enable you to clear the ball.
Force the opponent to the back so you can get to the T.
Slow down the tempo of the game.

Read about the Lob technique.
This video shows how a player moves forward, lifts the ball high, and is back at the T before the ball bounces.
How to add images to Members' Forum posts and replies here...
Replies...
Please Note: The most recent replies are now at the top!
From rippa rit - 31 Jan 2008 - 16:56 - Updated: 01 Feb 2008 - 06:59
From Adz - 30 Jan 2008 - 22:31
From rooshootup - 20 Dec 2007 - 11:40
From rippa rit - 19 Dec 2007 - 21:55 - Updated: 19 Dec 2007 - 21:59
From rooshootup - 19 Dec 2007 - 10:13
From rippa rit - 18 Dec 2007 - 21:59 - Updated: 18 Dec 2007 - 22:03
From rooshootup - 18 Dec 2007 - 10:42
From rooshootup - 17 Dec 2007 - 16:16 - Updated: 17 Dec 2007 - 16:20
Sorry, only members can post replies on this and all other Members` Forum items.
Join Here - It`s fast and it`s free!
Support Squashgame
Support us here at Squashgame.info! If you think we helped you, please consider our Squash Shop when purchasing or make a small contribution.
Products Now Available