Get into position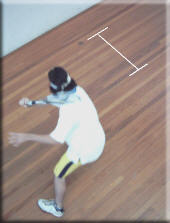 Early Preparation & Feet positioning
Published: 21 Nov 2004 - 16:41 by rippa rit
Updated: 03 Feb 2007 - 08:27
Subscribers: Log in to subscribe to this post.
If you want to take the initiative it is important to "get into position" first, then take the
authority from your opponent. This advice has often made players laugh. I am not joking.
Only hit the ball as hard/fast as you can run. Why?
The faster the ball is returned by the opponent, the less time available to get into position to play the return.

If a player is badly positioned on court, the return will be defensive, and leave more court wide open for the return shot.
How to add images to Members' Forum posts and replies here...
Replies...
Please Note: The most recent replies are now at the top!
Sorry, only members can post replies on this and all other Members` Forum items.
Join Here - It`s fast and it`s free!
Support Squashgame
Support us here at Squashgame.info! If you think we helped you, please consider our Squash Shop when purchasing or make a small contribution.
Products Now Available