Watch the ball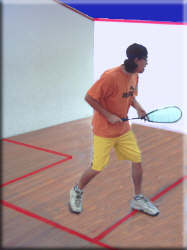 Keep your eye on the ball at all times
Published: 21 Nov 2004 - 16:35 by rippa rit
Updated: 26 Sep 2006 - 21:48
Subscribers: Log in to subscribe to this post.
To accurately track the ball, it is necessary to keep your eye on the ball at all times.
That might also mean getting out of the way of the racket swing, and ball, while your opponent is returning the shot.
No worries...do that by :
Moving the body to give yourself better sight of the ball will assist anticipation considerably.
This, in turn, wil increase your speed to the ball.
How to add images to Members' Forum posts and replies here...
Replies...
Please Note: The most recent replies are now at the top!
Sorry, only members can post replies on this and all other Members` Forum items.
Join Here - It`s fast and it`s free!
Support Squashgame
Support us here at Squashgame.info! If you think we helped you, please consider our Squash Shop when purchasing or make a small contribution.
Products Now Available