Shoulder to the target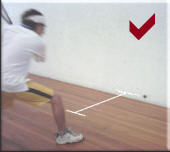 Shoulder to the target
Published: 06 Jan 2005 - 16:11 by rippa rit
Updated: 13 Jan 2010 - 18:19
Subscribers: Log in to subscribe to this post.
Shoulder to the target is such a simple rule, often used in physical education to teach the kids to aim for the target. If you are having trouble with direction and hitting the front wall target, think, "shoulder to the target" and it works, and it is a simple rule to follow.
After reading the recent forum articles about open v closed stance again, it is hard to beat the concept of balance and rhythm/flow.

Keeping shoulder pointing towards the target with the body in alignment sure helps this idea.
It is hard to get your shoulder to the target with the "opposite" foot forward (particularly in a closed stance situation), while the hips are scrunched up and you are off balance.

I recommend only resorting to that footwork if you are desperate, or maybe want to deceive your opponent. Besides, if you carry any excess weight, it is nearly impossible to twist like this, so getting the shoulder to the target would be out of the question!! Oops!
How to add images to Members' Forum posts and replies here...
Replies...
Please Note: The most recent replies are now at the top!
From raystrach - 13 Jan 2010 - 18:17 - Updated: 13 Jan 2010 - 18:19
From rippa rit - 16 Jun 2007 - 01:35 - Updated: 16 Jun 2007 - 01:37
From fatness - 15 Jun 2007 - 20:30
Sorry, only members can post replies on this and all other Members` Forum items.
Join Here - It`s fast and it`s free!
Support Squashgame
Support us here at Squashgame.info! If you think we helped you, please consider our Squash Shop when purchasing or make a small contribution.