Good length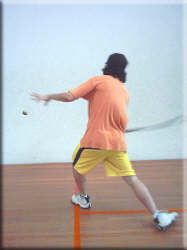 A lob from mid court is a good way to get the ball to length and have time to recover to the T.
More Pics...
Published: 06 Aug 2004 - 18:37 by rippa rit
Updated: 18 Mar 2008 - 20:04
Subscribers: Log in to subscribe to this post.
Good tight length is the basis of all game plans. To explain tight (close to the side wall), and length means to get the ball to land in the back corners. A shot that can be difficult to retrieve successfully without some technical skills.

How does the pressure build up with tight length?
Firstly, tight length puts pressure on an opponent, then it is possible to play their weaknesses.
Secondly, once pressure is applied (and it may take several shots to achieve this), it is easier to put the ball where you want to.
That means going for the weakness when the shot is "on".
Link to Gold video clip showing tight backhand length.
How to add images to Members' Forum posts and replies here...
Replies...
Please Note: The most recent replies are now at the top!
From rippa rit - 11 Dec 2007 - 07:03 - Updated: 11 Dec 2007 - 07:05
From stockcubes - 10 Dec 2007 - 23:45
Sorry, only members can post replies on this and all other Members` Forum items.
Join Here - It`s fast and it`s free!
Support Squashgame
Support us here at Squashgame.info! If you think we helped you, please consider our Squash Shop when purchasing or make a small contribution.
Products Now Available