Why build up the grip?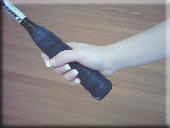 Check the grip size
Published: 05 Feb 2006 - 15:30 by rippa rit
Updated: 29 Jan 2010 - 04:41
Subscribers: Log in to subscribe to this post.
Generally racket handles are not oversize, excepting maybe, in the case of younger players/juniors
There are sound reasons for having the grip the correct size.
.
To stop the racket from slipping/turning in your hand.
To make the racket easier to hold.
To prevent getting a sore arm.
When purchasing a racket, always check t
he grip size.
The above link shows a diagram on how to check the grip size, and hold the racket.
There are a couple of ways of increasing the grip size:-
Add a grip over the existing grip (generally recommended for a larger build up).
Take off the existing grip (carefully as it should be possible to reuse it).
Add 1, 2 or 3 layers of electrical insulation tape (depending on the build up required).
Then fit the grip over the top.
It is important the material used to build up the grip is firmly attached or the grip may wriggle around under your fingers when swinging at the ball.
Here is a link on
Add/replace a grip.
How to add images to Members' Forum posts and replies here...
Replies...
Please Note: The most recent replies are now at the top!
From BizarreCo - 13 Apr 2006 - 10:55 - Updated: 13 Apr 2006 - 10:56
From missing_record1 - 31 Mar 2006 - 19:27
From lowrider - 18 Mar 2006 - 03:06
From lowrider - 17 Mar 2006 - 16:50
Sorry, only members can post replies on this and all other Members` Forum items.
Join Here - It`s fast and it`s free!
Support Squashgame
Support us here at Squashgame.info! If you think we helped you, please consider our Squash Shop when purchasing or make a small contribution.