Have trouble placing the return of serve?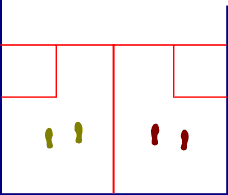 Keep away from the side and back wall to return service
Published: 06 Sep 2006 - 21:15 by rippa rit
Updated: 25 Jan 2009 - 19:01
Subscribers: Log in to subscribe to this post.
When you watch the pros return the serve it all looks so easy. Yes, and so does everything else for that matter!

My tips are:
1. Stance - Keep away from the back and side walls leaving plenty of room to move either forward, sideways or address the back wall. Looking at the diagram, I prefer to stand closer to the Half Court line which gives plenty of options to move into any position within the service box.

2. Watch the server clearly (not sneaking a look see out the corner of your eye) to get ideas about the type of serve to expect, ie the height, the speed and the angle of the serve.

3. Move into position as early as possible deciding if the ball can be volleyed, driven, lobbed, etc.

4. To get the return close to the side wall is a plus and this, together with length, gives a great start to winning the point.

5. It is easier to place the ball accurately by controlling the swing/wrist (racket head) and sacrificing some power.

6. If you are not good at placing the ball and moving the opponent away from the middle of the court, try a high soft lob that goes over the opponent's head.

Tip: Partner practice serve and return at least once a week, as that will definitely improve your game.
Video Forehand Return of Serve
How to add images to Members' Forum posts and replies here...
Replies...
Please Note: The most recent replies are now at the top!
From rippa rit - 30 Nov 2007 - 17:25 - Updated: 30 Nov 2007 - 17:29
From rippa rit - 29 Nov 2007 - 07:12 - Updated: 29 Nov 2007 - 07:17
From nickhitter - 26 Jul 2007 - 01:46
Sorry, only members can post replies on this and all other Members` Forum items.
Join Here - It`s fast and it`s free!
Support Squashgame
Support us here at Squashgame.info! If you think we helped you, please consider our Squash Shop when purchasing or make a small contribution.
Products Now Available