Opponent Volleys the Serve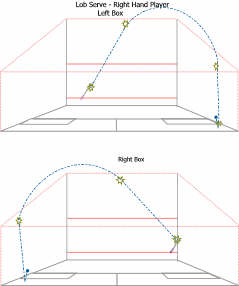 A high lob serve is effective as the ball "drops" on the receiver
Published: 08 Aug 2004 - 18:47 by rippa rit
Updated: 30 Jul 2008 - 17:50
Subscribers: Log in to subscribe to this post.
Is your opponent attacking your serve with a strong volley? It's usually because you are not getting the ball high enough or wide enough. You also may be too predictable. Remember that, when serving, you have total control of what happens on the serve. Keep the opponent on the defensive.

Less skilful players are usually not so aggressive on the return of serve, especially with the volley (unless they are tennis players, maybe). As your game improves, so must your serve improve, and if it does not consistently get high enough, and tight enough, the opponent will attack the serve. To prevent the opponent attacking the service, check:-
The height of the service - a high target on the front wall. (soft and high landing into the back corners).
The serve should not touch the back wall on the full
The serve touches the side wall (preferably at the back of the service box).
If your serve is becoming too predictable, try to change the speed, height, angle/direction of the serve, eg a hard serve out of their hitting zone.
If the serve is bouncing back into the court, it is being hit too hard.
How to add images to Members' Forum posts and replies here...
Replies...
Please Note: The most recent replies are now at the top!
From Adz - 30 Jul 2008 - 17:50
Sorry, only members can post replies on this and all other Members` Forum items.
Join Here - It`s fast and it`s free!
Support Squashgame
Support us here at Squashgame.info! If you think we helped you, please consider our Squash Shop when purchasing or make a small contribution.
Products Now Available