Frustrated - Too Many Lets!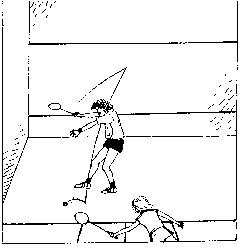 If it is safe, take advantage of the situation - a boast would be perfect in this example
Published: 03 Oct 2004 - 23:04 by rippa rit
Updated: 14 Jan 2008 - 13:29
Subscribers: Log in to subscribe to this post.
"Lets" are good in squash and they keep the game safe. However, there are several situations where "lets" become the norm during play to the detriment of the game.
If this is allowed to continue it can cause frustration and anger to the players.
How can a situation like this be avoided?
The Referee must take control of the match exercising their authority and decide under the terms of the rules, eg

..is the intersference deliberate

...is the interference accidental
..has interference occurred
..is the player making every effort to avoid the interference

...is the opponent playing the player, not the ball

...is the opponent crowding, and so on.


The Referee must control the match or it can easily get out of hand.

Strokes/penalties work wonders if players are misbehaving.

The Player can take some action also, and must, particularly if the Referee is just keeping the score! How?


....hit the ball away from themselves, eg instead of playing a drive, play a boast
. ..when approaching the ball, to play your shot, turn your body and become aware of the opponent's position on court. This will give a better clue where to hit the return
. ..when moving away, after striking the ball, use a circular movement around the incoming striker, to avoid bumping, and causing interference.

Tip:

Remember, there are 4 corners of the court when aiming to return the ball; aim for the corners furtherest away from the opponent. When training with your team mates practice these strategies.
How to add images to Members' Forum posts and replies here...
Replies...
Please Note: The most recent replies are now at the top!
From edmpnd1961 - 14 Jan 2008 - 13:29
From wilsonw - 07 Dec 2004 - 23:48
From wilsonw - 07 Dec 2004 - 23:45
Sorry, only members can post replies on this and all other Members` Forum items.
Join Here - It`s fast and it`s free!
Support Squashgame
Support us here at Squashgame.info! If you think we helped you, please consider our Squash Shop when purchasing or make a small contribution.
Products Now Available