Boasts are sitting up!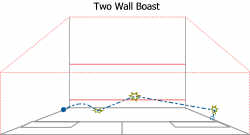 The two wall boast should die in the nick
Published: 15 Jul 2004 - 18:35 by rippa rit
Updated: 03 Jul 2008 - 07:55
Subscribers: Log in to subscribe to this post.
When I first started my squash playing, there were not too many coaches around, and my team mates and others would say "don't boast, it is a bad shot" How ridiculous was that, when the boast can be defensive, but also very accurately hit into the side wall nick, and a great shot to make the opponent move around the court..
If the
boast
sits up the opponent bangs it away, yes? With a boast it is the height the ball strikes on the side wall that gives the height on the front wall. So:-





Mark a spot on the side wall, showing the height of the tin, to give a "starting" height to aim for on the side wall.


It is the distance down the side wall that affects the angle the ball rebounds on the front wall, and then lands on the floor.





Some tips when hitting the boast:





Swing through with an "open" racket face (to give the lift).


Do not scoop or shovel when swinging as that will cause the ball to keep travelling upwards, hence the ball will bounce higher.


Having the correct grip will be imperative, as the open racket face is vital when striking the ball.





Give it a try. Let me know how you got on.
.
How to add images to Members' Forum posts and replies here...
Replies...
Please Note: The most recent replies are now at the top!
Sorry, only members can post replies on this and all other Members` Forum items.
Join Here - It`s fast and it`s free!
Support Squashgame
Support us here at Squashgame.info! If you think we helped you, please consider our Squash Shop when purchasing or make a small contribution.
Products Now Available