Why Warm-up?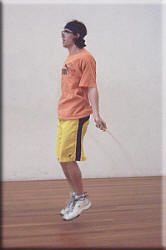 Warm up with a range of general and specific activities
Published: 10 Oct 2004 - 23:25 by rippa rit
Updated: 09 Mar 2008 - 08:59
Subscribers: Log in to subscribe to this post.
Warming up is often viewed as a waste of time, but believe me, it is worth the effort.
It is so easy to just get ready, grab the racket, jump in the car, and rush on to the court.
Once on the court it is too late to start thinking about how slow you feel, and how stiff the body is, and that the dinner/meal was of not use to the game, except to make the legs feel heavy, and the stomach unsettled.

I agree, that is a no stress way to have fun. However, to escape injury as well as play our best, it is recommended we spend ten minutes on the pregame warm-up.

In cold weather our bodies take longer to get warm, and we cool down much quicker.
The advantages of a
proper warm-up
are:-
Prevent injury.
Increase flexibility,
More spontaneous court movement.
More enthusiasm.
How to add images to Members' Forum posts and replies here...
Replies...
Please Note: The most recent replies are now at the top!
From drop-shot - 24 Sep 2006 - 21:56 - Updated: 24 Sep 2006 - 21:56
From Daren - 22 Sep 2006 - 10:06 - Updated: 22 Sep 2006 - 10:06
From rippa rit - 22 Sep 2006 - 08:59 - Updated: 22 Sep 2006 - 09:09
From fishnicker - 22 Sep 2006 - 03:39
Sorry, only members can post replies on this and all other Members` Forum items.
Join Here - It`s fast and it`s free!
Support Squashgame
Support us here at Squashgame.info! If you think we helped you, please consider our Squash Shop when purchasing or make a small contribution.
Products Now Available